Hello! This is my second week cooking with Chef Rachel and I am loving it. We cook for two clients, one that she has had as a client for over 2 years. As part of my externship she asked me to come up with some new ideas for dishes to cook. I found this broccoli salad recipe on line from Heidi Swanson of 101 Cookbooks. Her blog is great, and her food is delicious. She used to post a lot more frequently and this is one of her older recipes. We modified it a bit and made it for both clients. We saw one client again yesterday and she said she really liked it. We served it Maple-Pecan Crusted Salmon, and Mashed Sweet and Yukon Gold Potatoes with Basil and Toasted Garlic. It was a beautiful and tasty dinner. (I'll share the recipe for the salmon later this week!)
Before the recipe, here are a couple of wild flower photos. I took at walk around Lady Bird Lake this week, and these were growing in one of the nearby fields. So pretty.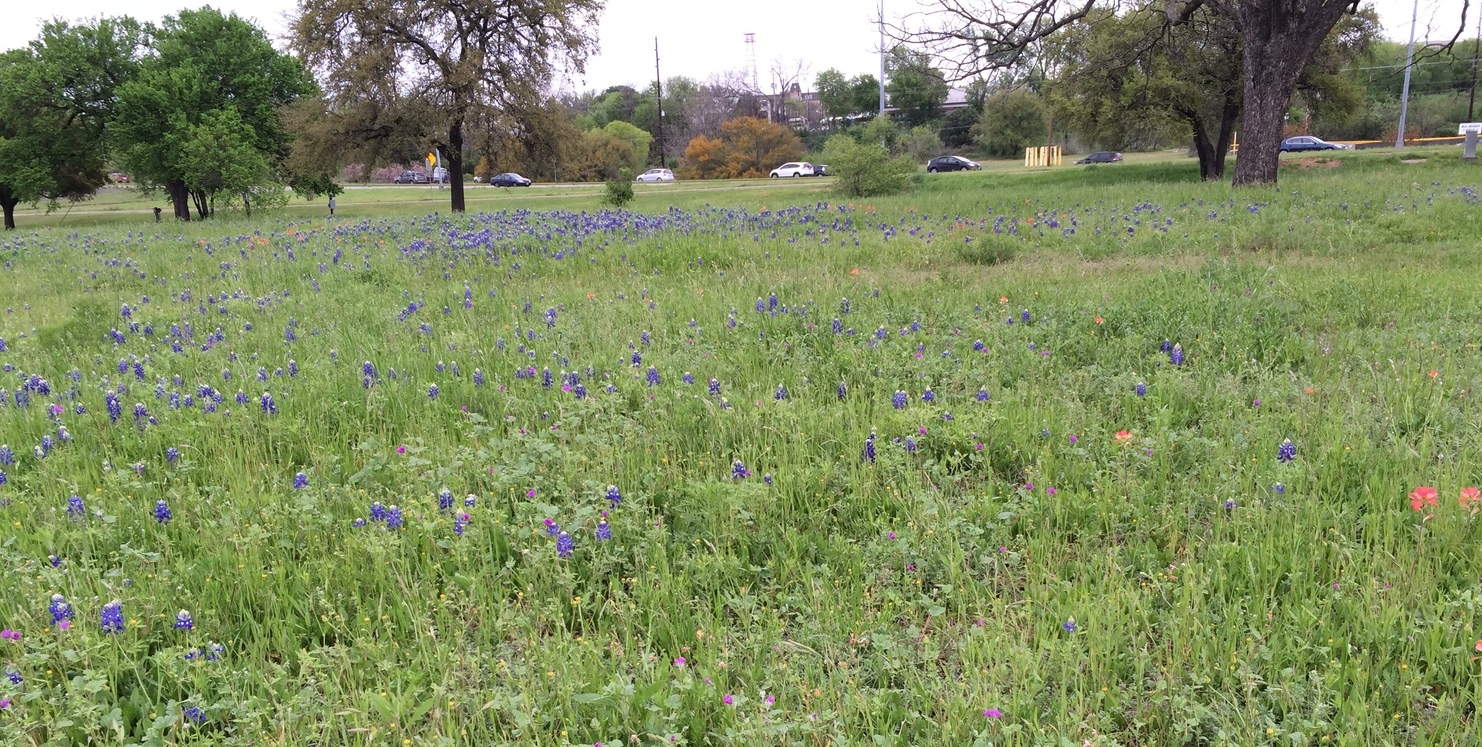 My pictures don't do them justice. Imagine whole fields along the roads…
Hope you are having a good week. Seems like Spring is finally here! BTW Happy Easter. Isn't this wreath cute? Maybe I will make it next year!
Broccoli Crunch Salad
Prep Time: 20 minutes
Cook Time: 15 minutes
Keywords: salad side gluten-free vegan vegetarian almonds apples broccoli
Ingredients (4 servings)
4 - 5 cups of broccoli florets
2 small or 1 large crisp apple, diced (place in a bowl covered in water with juice of 1/2 lemon if not using right away)
1/2 small red onion, sliced thinly into half moons
1/3 cup sliced or slivered almonds, toasted lightly
1 shallot, thinly sliced
1 Tbsp olive oil
salt
for the dressing
1 garlic clove, minced
1/2 tsp sea salt
1/4 cup almond butter
3 Tbsp lemon juice
1 tsp maple syrup
2 Tbsp extra virgin olive oil
2 - 4 Tbsp hot water
Instructions
Bring a large pot of water to a boil. Add a big pinch of salt. Add the broccoli and blanch for about 20 to 30 seconds. Remove and place in a colander. Run cold water over it to stop the cooking. Dry thoroughly. A salad spinner works well. Set aside
Heat olive oil in a small skillet. Add the shallots and a big pinch of salt. Cook over medium heat until browned and crunchy. This will take as long as 15 minutes. If browning too quickly turn the heat down to low. Let them get very brown. Drain on a paper towel.
In a small bowl, whisk all the dressing ingredients except the water until well combined. Add the water one tablespoon at a time until the dressing is light, creamy, and thin enough to drizzle. Taste and add salt or lemon juice as needed to season well. (If you have a little umeboshi vinegar a light drizzle is nice to add.)
In a large bowl, toss the broccoli, apple (drained if it was in water), red onions, 3/4 of the almonds, and 3/4 of the shallots. Drizzle with about 3/4 of the dressing. Toss well to combine. Add more dressing as needed to get everything well coated. Place on a seving platter. Garnish with the remaining almonds and shallots.