Hello, finally! I have taken quite a break from blogging these last couple of weeks. It has been a whirlwind of packing, moving out of Austin, a few days in Houston, completing the second half of my externship, and then driving across the country (1000+ miles) to my Mom's in SC. Whew! I am off tomorrow to California for a wedding and a little vacation but thought I would do a quick post before I'm off line again for the next week.
First up, the last couple of days in Austin were great. I had nice dinner out with my friend Joy and ate a yummy pizza with Spanish romesco sauce (almond based, not tomato based) with grilled veggies and topped with mixed greens. So delicious. I will have to make a pizza with salad later this summer and share the recipe.
I cooked the last few days with Rachel but still have 10 more hours I need to complete with her before I am finished with that part of my externship. I took a photo of the kitchen of one of her clients because it is beautiful and the most functional kitchen I have cooked in. And it isn't huge. This goes in my files for future kitchen planning. The arrangement of refrigerator, sink and stove is key in efficiency and this one was just right. A big pantry is to the right of the ovens and the dishwasher is in the island next to the sink. Everything is close but not crowded.
I spent a few days in Houston going to the dentist, taking Domino to the vet and visiting with friends. I ate soba noddles at Canopy, one of my favorite places in Houston, had dinner with my MD Anderson friends at Houstons, had lunch with my friend Kate and her 18 month old, August, and took a trip with Tom to see his aunt and uncle out in the country. They have a sheep farm which is where I got Red and Domino. A baby lamb was born the night before we visited and sadly it was not doing well. I helped Uncle Jay try to feed him with a bottle. Heartbreaking. Hopefully he made it through, but I haven't checked as I didn't want to hear otherwise!
For the second half of my externship I cooked with 4 other chef's at a retreat held at Camp Allen. Camp Allen is an Episcopal camp/retreat center about an hour outside Houston in the country. It was beautiful and quiet. There were tons of rabbits and deer. Another chef saw several turtles but I never saw any.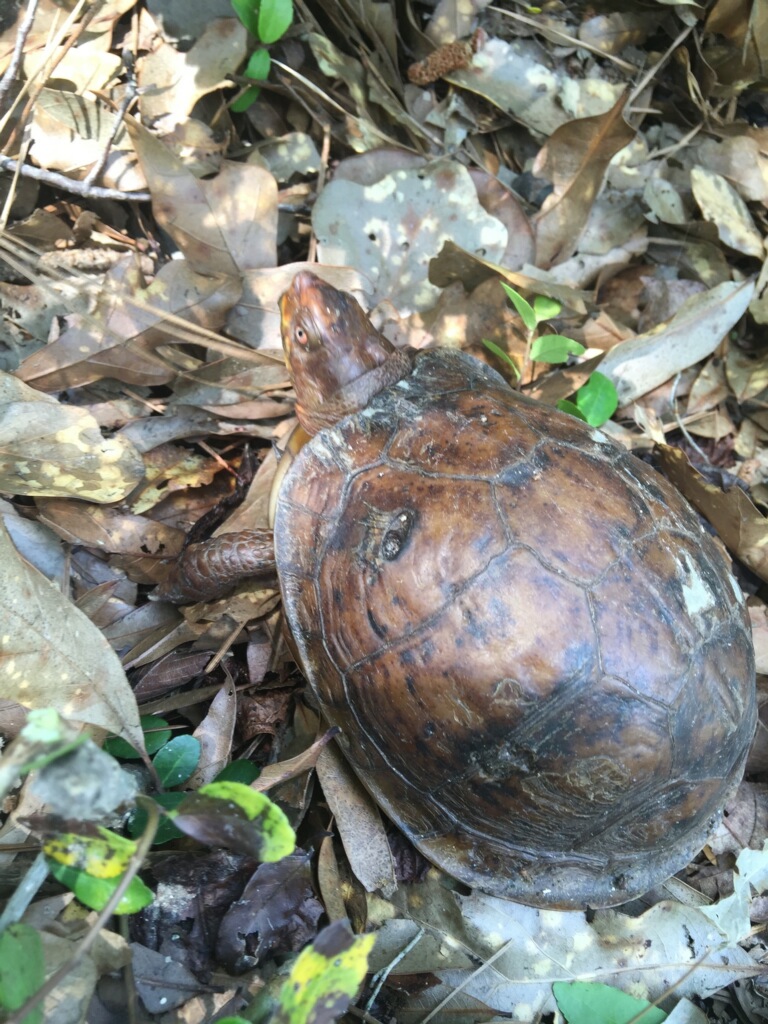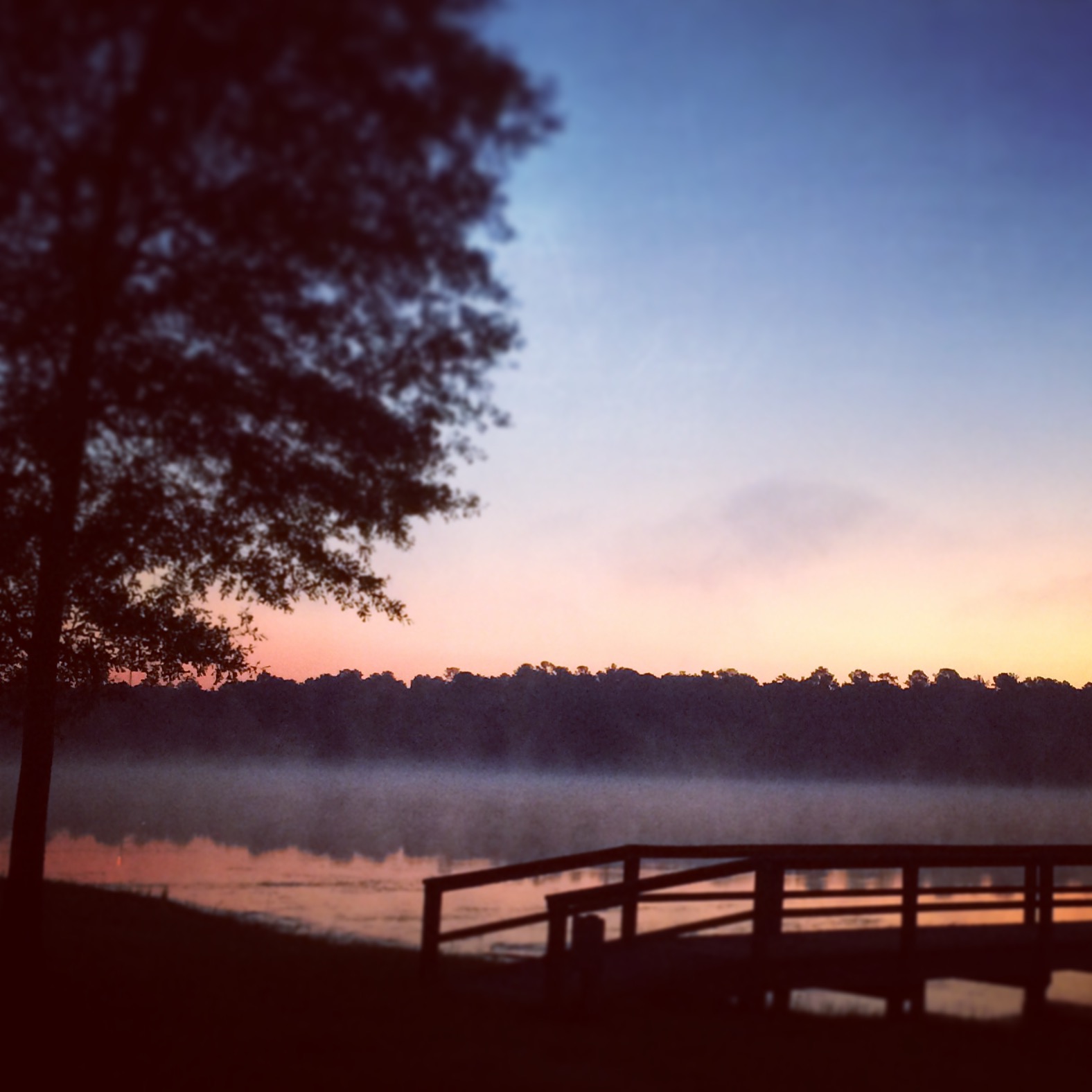 We cooked for 65 guests plus the 5 of us for 8 days. It was so much work, but so much fun. I learned how to plan menus, cook in bulk, prep food in advance for multiple meals and recipes, and provide food service for a paying client. We worked from 7 am to 7 or 8 pm every day, with usually only a couple of short breaks to quickly eat. Mike, a personal chef in Austin, was hired for the job and then hired us to help. He is amazing at the planning and customer service. He planned menus that met the needs of all the varied requests…..people who eat Paleo, the vegans, gluten-free, dairy-free…..They request meat twice a day and the vegans always need their own protein. It is tough. I learned that I would really like to cook for retreats, but smaller numbers and vegetarian would be more my speed! Here is some of the food we cooked.
To make things even more fun, Friday night there was a huge storm and we lost power. Saturday morning breakfast with no electricity was a challenge. Fortunately the stove was gas so we could cook and heat water. Hand brewed coffee for 80! Another day we had 28 bunches of kale to trim and clean. The assembly line approach worked great. Angie stripped the leaves from the stalks, and I washed it in a pot of water.
We had a hard time with enough space to store food in the fridge. We had to use coolers with ice and the fridge in our cabin. This is what happens when you stuff the cabin fridge full….you have to use a table to hold the door closed!
Lastly here are are a few pictures of our porch, where I would put my feet up at the end of the day, and our group. The last one is a joke, trying to show how tired we were!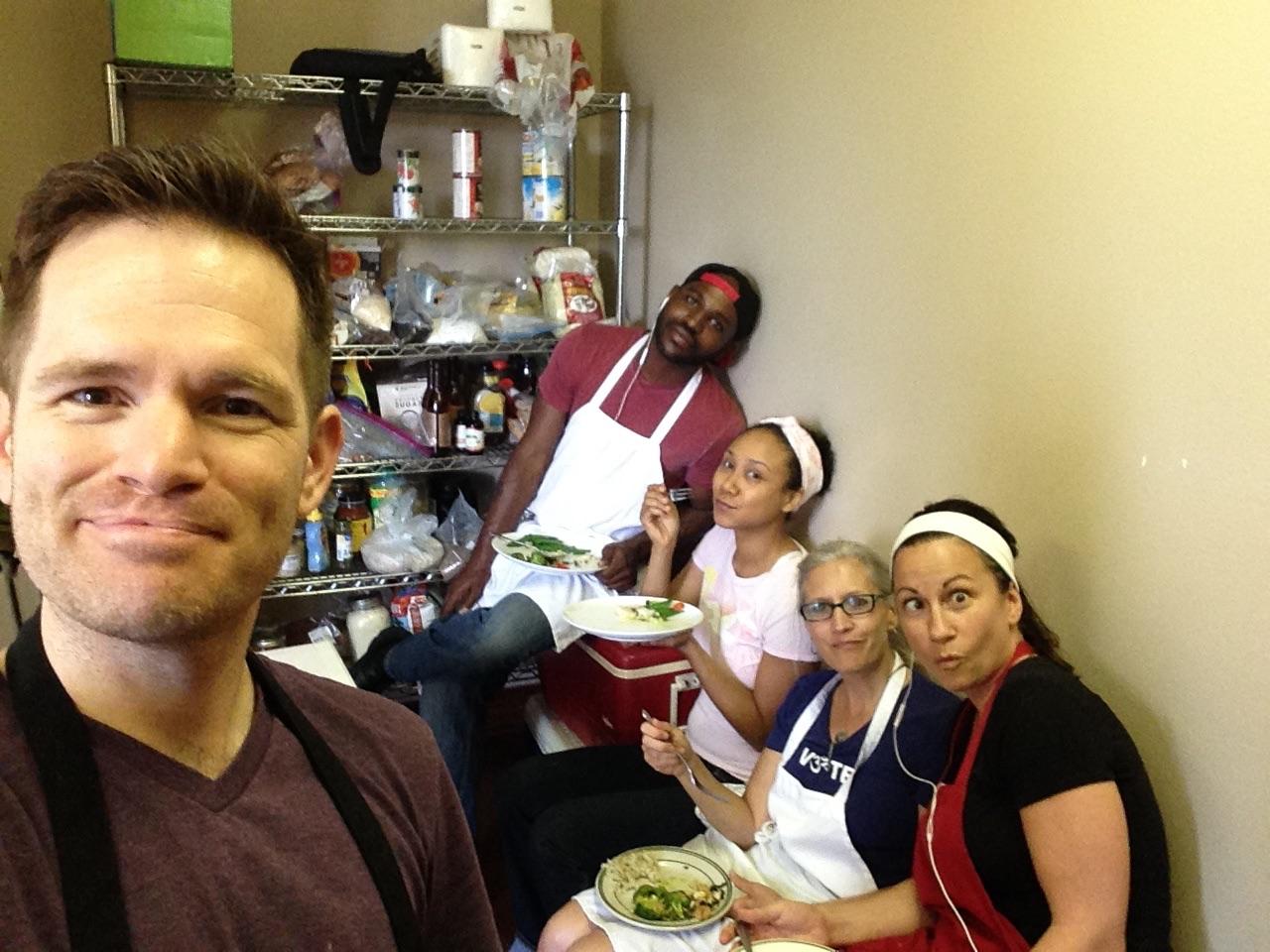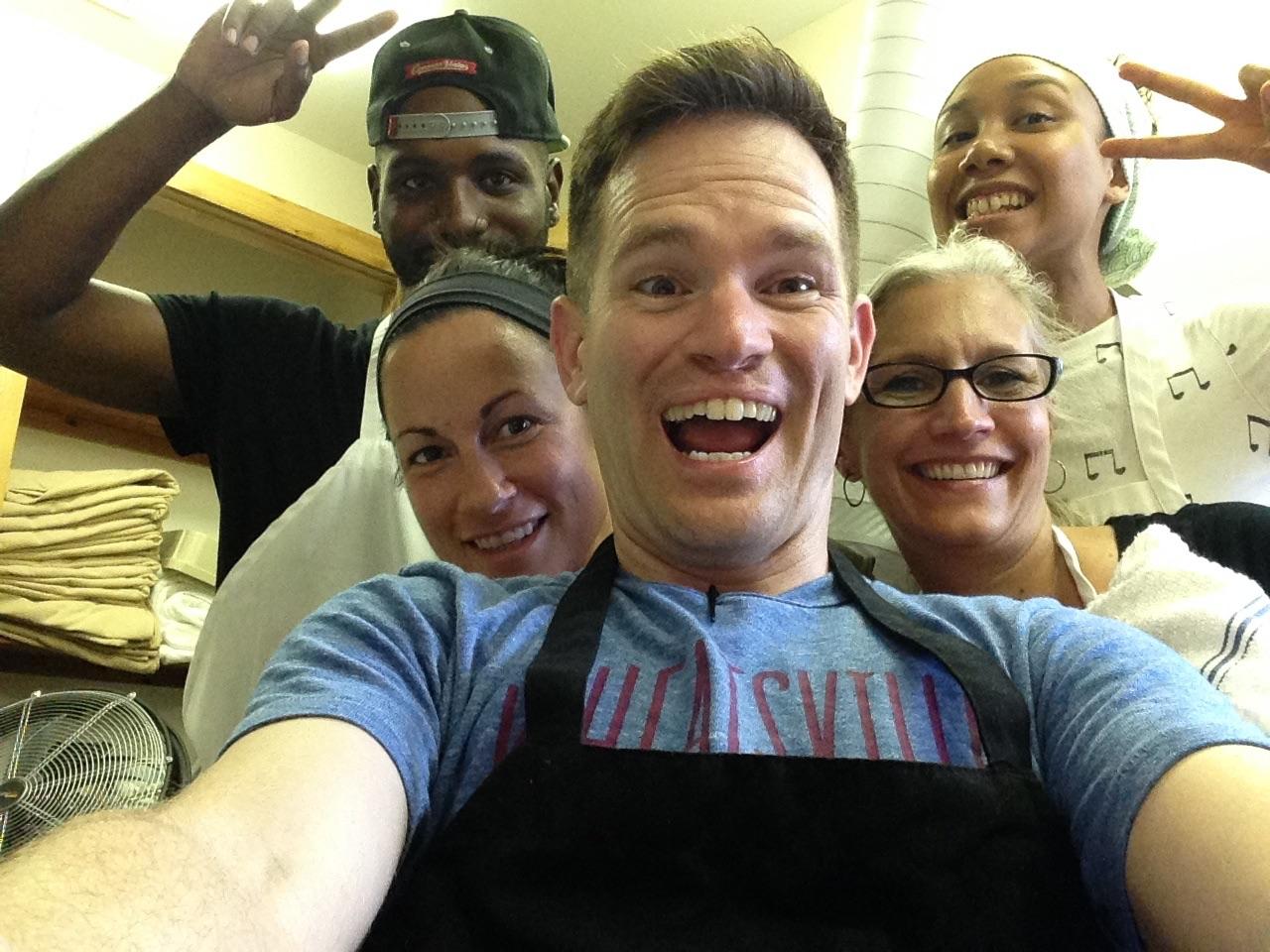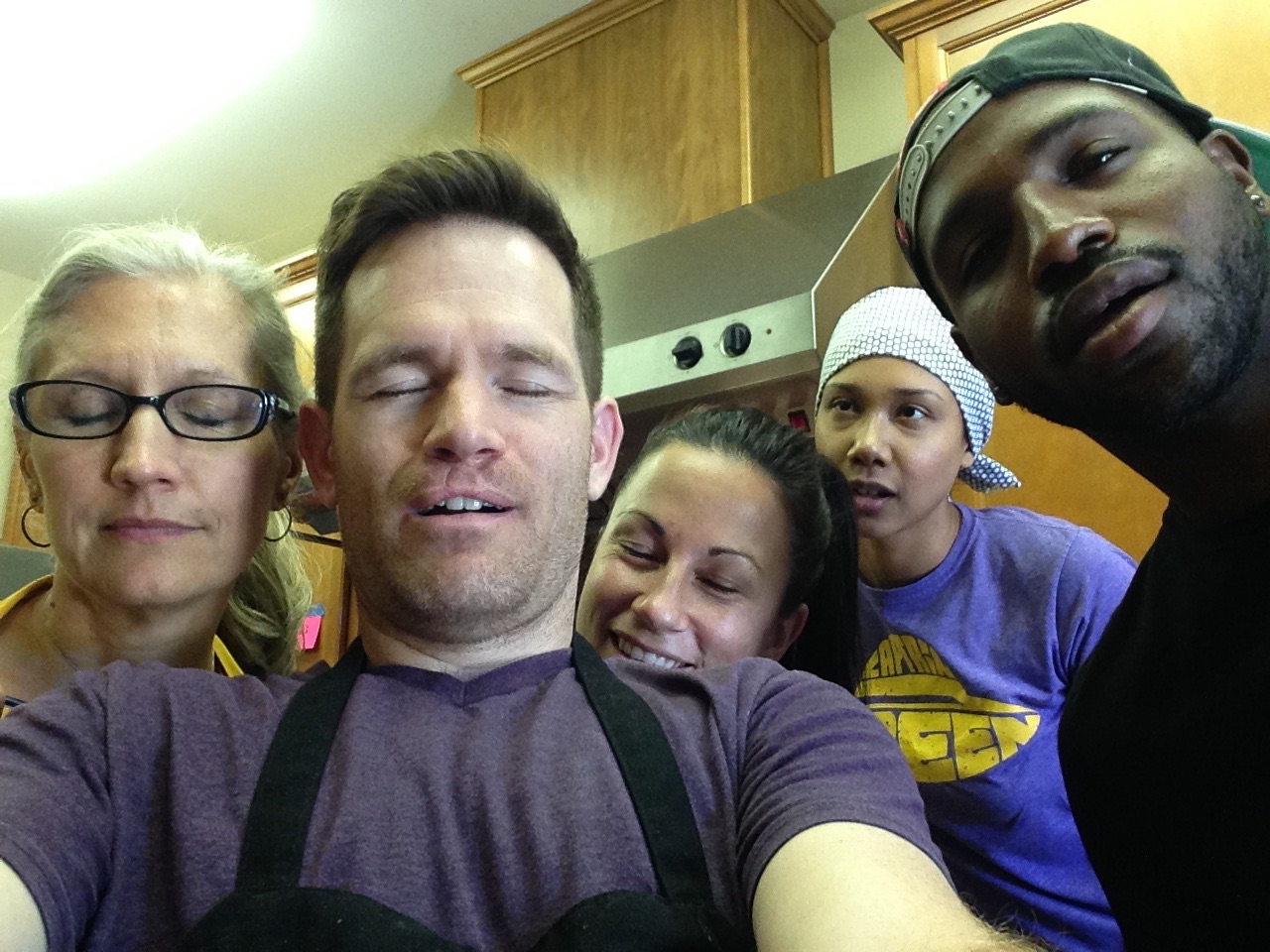 After the retreat, I spent a day in Houston with Tom, then loaded up the kitties and headed East. I drove 600+ miles the first day, all the way to Greenville, Al. Red talked to me for the first hour and a half but otherwise the cats did great. Mostly just slept. The Comfort Inn where we stayed was perfect. We all could relax and stretch our legs. I made it to my mom's the second day, about 420 miles, and arrived around 3:45pm. Nice easy day. It is great being with her and being out in the country. I love my morning walk, only made better when my Aunt Linda walks with me. Yesterday I went shopping in Charlotte and there was a heart in my coffee at Starbucks. And today a friend of my mom's brought over strawberries that were picked this morning.
So life is good. Up next, Sonoma, Mendicino, some hiking, and a wedding, the perfect end to a long year of change. Once I get back, I'll start figuring out what comes next. I am certain it will all fall into place and can't wait to see what the next chapter holds! I hope you'll read along with me as it unfolds!