Hey, there. No, I haven't given up on writing! Time is just moving so fast and somehow I never get a post written. But, at last, here I am with a few updates and some pictures. A recipe will come later next week. I have yet another sweet potato dish and a soup for you. Until then, here is a little update. I took a quick trip to Texas for the wedding of the daughter of my dear friend Barbara. Erin is an accomplished chef and all around great woman and I was honored to be included in her wedding. She is a Chopped Champion (if you ever see an episode Deadliest Basket, that is Erin!) and married another chef known for BBQ so you can believe the food was amazing. I have no food pictures from the wedding, but here are some highlights of my trip.
My first night in Houston we ate at Good Dog Houston, a little hole in the wall place in my old neighborhood, known for quality hot dogs on local bread with great craft beer. I get a tofu "pup" and this one was the Guac-a dog, with avocado, jalapeno, tomato, onion, roasted garlic aioli, lime, and cumin. So delicious. I rarely eat processed soy products as I think they aren't good for you, but this is the one exception.
The wedding was held in Fredericksburg, Tx, a little town about 4 hours from Houston. It is a beautiful town and the venue was perfect. Here are a few pictures.
After the welcome BBQ the first night, a few of us went to Luckenbach, TX to hear a Patsy Cline cover band at the Dance Hall. It was the epitome of Texas and great fun.
The wedding was the next day. Sadly I don't have very many pictures but here are a few. It was beautiful, Erin and Patrick were so happy, and the food was delicious. A perfect start to what will surely be a long and happy marriage.
The next day a couple friends and I had brunch at The Fredericksburg Herb Farm, a really cute little bed and breakfast/restaurant/shop. Yelp gave us a winner. Great food and really cute place.
I had one last day in Houston to see some of my other friends and sadly didn't get to see everyone I wanted to. I had two wonderful visits, while eating a great Thai salad with tofu at Local Foods, and corn ravioli at State of Grace. Nice to see friends and eat good food.
Somehow I always end up with pictures of food and no pictures of friends. Boo! :( I will have to do better than that! The weekend after I got home I went to Apex, NC for the birthday of my favorite triplets. They turned 10 and we had a great time celebrating. They got a puppy! Can't get a better present than that....Her name is Agatha and she is a blue heeler Australian cattle dog. She is tiny and so sweet. I keep reminding myself I have two cats and don't need a dog!
This is getting long but two more things....I helped a friend arrange the flowers for church this week. It was fun and the flowers turned out great. Can't wait to see how they look at mass Sunday....it was a perfect diversion for this rainy weekend.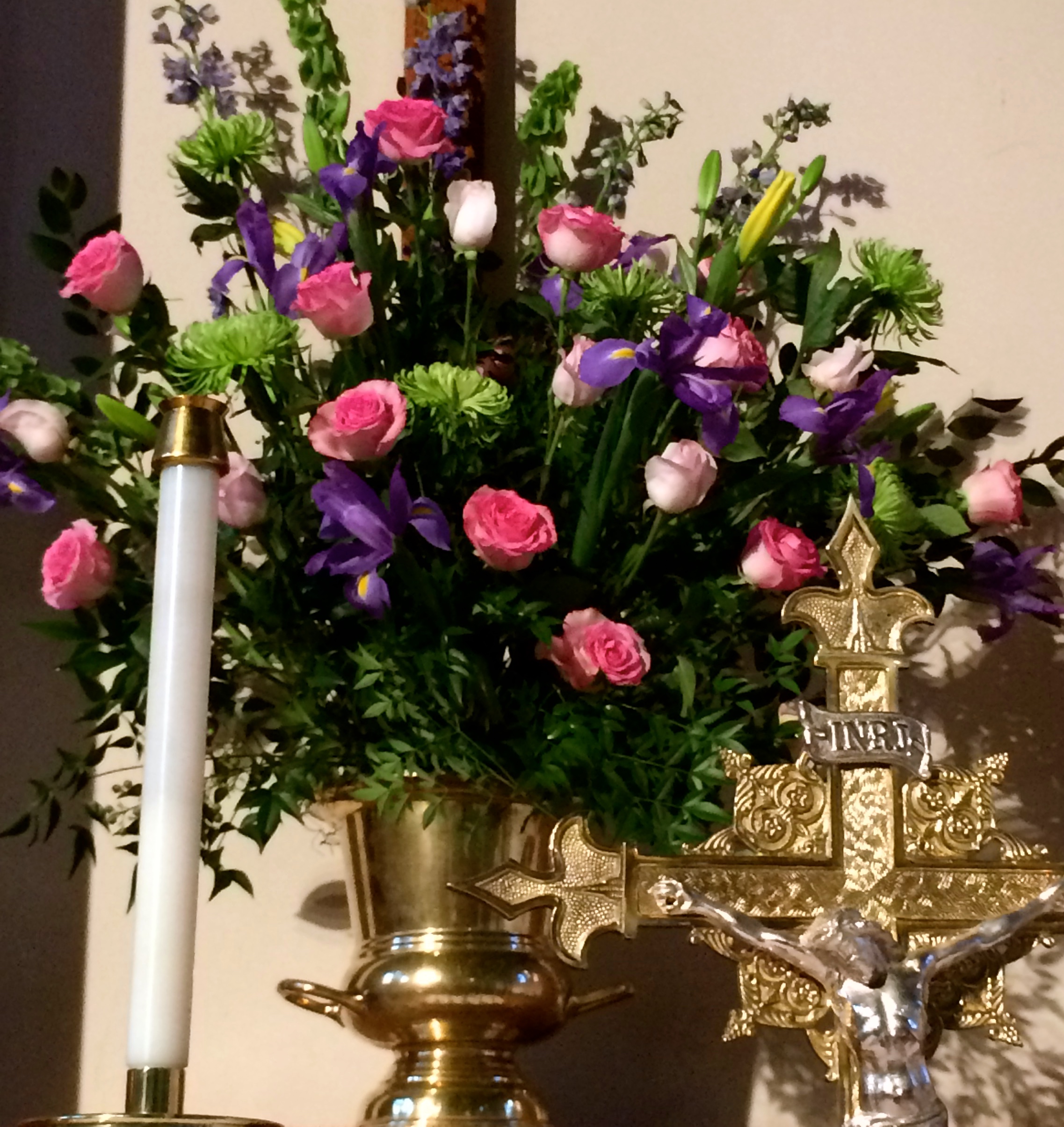 And lastly, this is how I watch tv these days. I think someone missed me while I was away!
So that's it for now. I'll be back sometime next week. I am starting full time work on Tuesday with a different hospice doing home visits. I am excited to get started and settled into a routine. I suspect I will write more, because the busier I am, the more I get done! See you then!