Hey everyone. Hope you are having a good week. The days are flying by! Can't believe we are rounding the corner of June into July. It seems impossible that in only a couple of months it will be two years since I left MD Anderson and Houston. How can that be? So much has happened in that time, yet sometimes it feels like so little. I suppose if I had an unlimited budget or some miraculous income I could have gone to Europe for a dream month, or traveled the US. Yes, I know you can do that on the cheap but somehow it seemed frivolous to me when living on savings. I am sure those things will come in time, when I am older and am financially prepared to retire.... I can stay that month in Paris, explore the Pacific Northwest, visit the National Parks.... I feel lucky that I had the resources to move to Austin, attend culinary school, and then relocate to NC. Those are no small feats, even though sometimes it is easy to second guess what I could have done with all this time. I finally feel settled here in Winston-Salem. I know my way around, have some favorite haunts, and feel like my house is my home. Now to get a routine, and put down some roots. I am on the cusp of really sorting out work. I will share more once I have a firm plan, hopefully sometime in July. In the meantime, I have been thinking about summer. I see quite a few "summer bucket lists" online. I have made a short one for myself....
Summer 2016
go to the beach
make peach preserves
go to a baseball game
see an outside movie
go to some concerts around town
practice yoga at the park in July, August and September
practice yoga at Foot Hills brewery on Saturday morning at least once
cool off with a trip to the mountains
make and eat a peach galette
have a picnic
make sun tea
hike three local trails
One of my favorite things, sitting on the beach. This is my dad and Aunt Linda at Edisto some years ago. I hope to be doing this sometime soon! Not on the list but definitely happening is a girls trip to Chicago with my mom, aunt and cousin. I am so excited. Part of the trip is seeing Coldplay! I love them and am sure the concert will be amazing. My cousin is a sport to go with me!
Here is a video from one of my favorite songs on their new album....
And before I get to the recipe a few pictures from around the neighborhood. The flowers are still beautiful. There is one yard with a bed full of cleome. I have never had luck with them but this may inspire me to try next year. I also love this photo with the purple Rose of Sharon and the Vitex.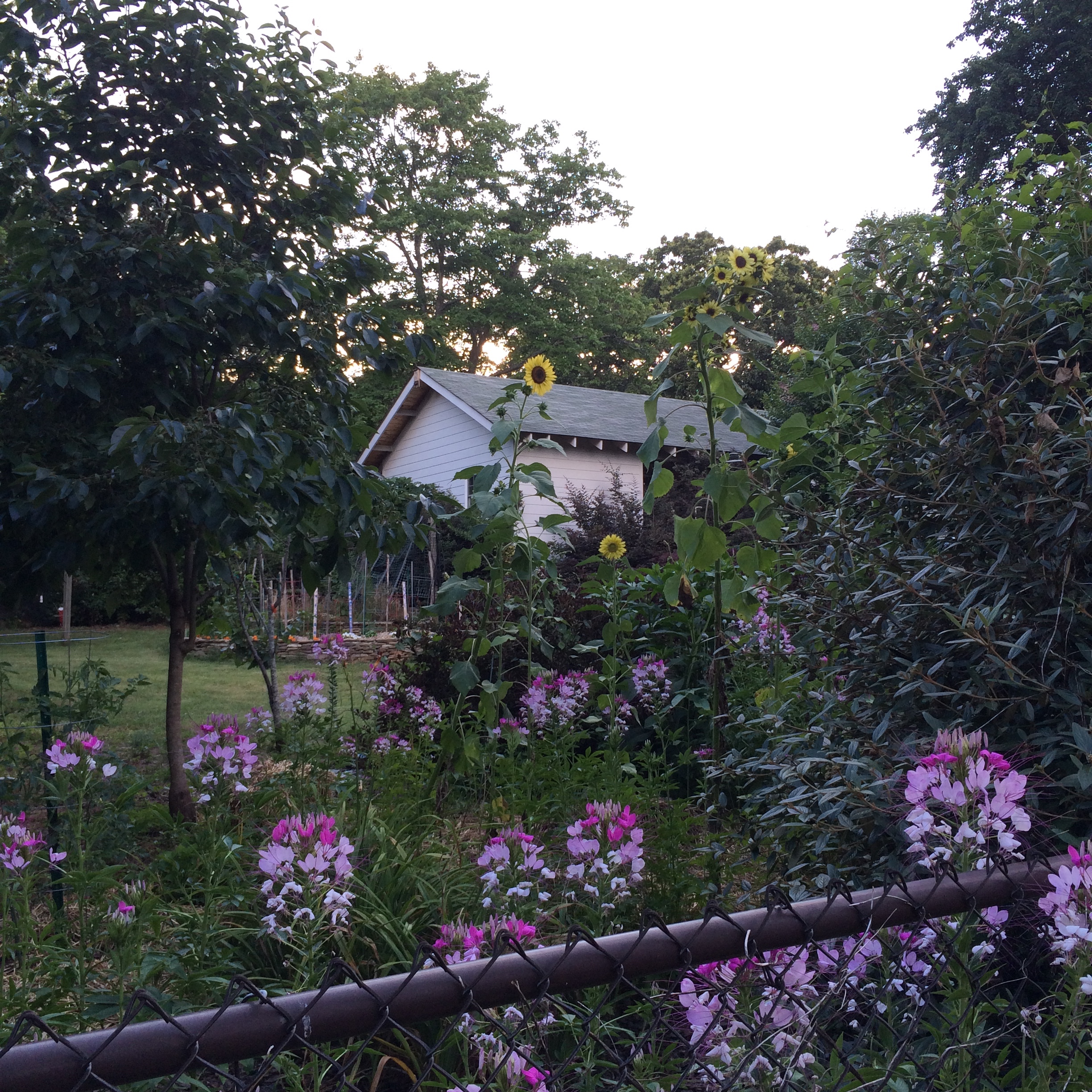 I also planted a couple of big pots for my front porch. The front does not get much sun and the local nurseries didn't have many options on what to plant. I wasn't thrilled with the choice when I planted them but they have grown in really nicely.
Beau has been rather hard on my beds this month. He gets in there to chase things and stomps down all my plants. Next Spring I plan to do some cleaning and planting in my beds now that I know what is growing where. And Beau will not be here to tramp them all down. And now finally here is the recipe. I made this stew last week and loved every bowl of it. I tend to always end up with stew when I intend to make soup. This one simple with carrot, onion, celery and cabbage cooked with split peas and vegetable broth. Split pea soup can be really heavy and thick but this one isn't. I even ate a bowl cold one day when I had to rush between patients and it was so good It needs to cook about an hour so plan ahead and you will have a nice meal. Serve with a green salad and some cornbread and you are set!
Split Pea Stew
Prep Time: 10 minutes
Cook Time: 45 minutes to an hour
Keywords: entree soup/stew carrots cabbage split peas
Ingredients (4 -6 servings)
2 Tbsp extra virgin olive oil
1 large spring onion, white and green parts (or 1 sweet onion), chopped
3 stalks of celery, sliced
3 carrots, cut in half long ways, then sliced
2 cups shredded green cabbage
1 tsp salt
about 6 grinds fresh pepper
1 bay leaf
1/4 tsp red pepper flakes
1 Tbsp chopped fresh rosemary (or 1 tsp dried)
1 Tbsp chopped fresh oregano (or 1 tsp dried)
2 Tbsp chopped fresh parsley
1 cup split peas, washed, picked over for stones, and drained
1 quart vegetable stock
1 cup of water as needed if the soup gets too thick
Instructions
Heat the olive oil over medium high in a big soup pot. When simmering, add the onion and cook stirring often for about 2 minutes.
Add the celery and carrots and cook for about 2 minutes.
Add the cabbage, stirring everything together.
Add the salt and pepper and stir to mix.
Add the herbs and split peas, stirring to mix well.
Add the vegetable stock. Bring to a boil, reduce heat to low, cover and cook for about 45 minutes, or until the peas are tender. It may take an hour. If you notice it is getting too thick add about a cup of water or as much as you like to get the desired thickness. (I added one cup at about 40 minutes into cooking)
Taste for seasoning and adjust with more salt and pepper as needed.