Hi, there. Just a little post with some random pictures that I haven't posted. No recipe today but will have one soon....succotash in the works! In the meantime I thought I would just share some of the photos I had in my phone. The one above is Red who thinks he needs to help me with computer work. He is extra needy since he had a month of limited attention as Beau took priority....I guess it is like the law of gross tonnage....the biggest pet won!
Tom and I took a little sightseeing trip while he was here We went over to Jamestown, NC to see the Mendenhall homeplace. You can read about it here. I am lucky Tom also likes to go to these nerdy places. It is the homestead of a Quaker family from the early 1800s. There is also also an old house that was moved to that site that was an early medical school. Very fun.
The green wagon in the picture above is a false-bottom wagon that was used in the Underground Railroad. There is only one other authenticated in the world! Sometimes history seems like a fairy tale and not really true but when you see it up close it makes it real. I can't even imagine having to hide in the bottom of a wagon to find freedom. Afterward, we went out for a great lunch at a place called Southern Roots. Local food, great ambiance. Can you guess which plate is mine and which is Tom's? It was delicious!
I went to an estate sale a week or so ago. The woman was a great collector. So many good things. I love salt glazed pottery and she had a huge collection. You can read about it here. I bought a few pieces, including a salt cellar. I broke the container I was using for salt, and have wanted one of these for years. They are expensive but this one was about 1/3 the usual price. Nice! Funny, she had saved all her receipts and they were inside each of the pieces. She bought most of these pieces in 1983.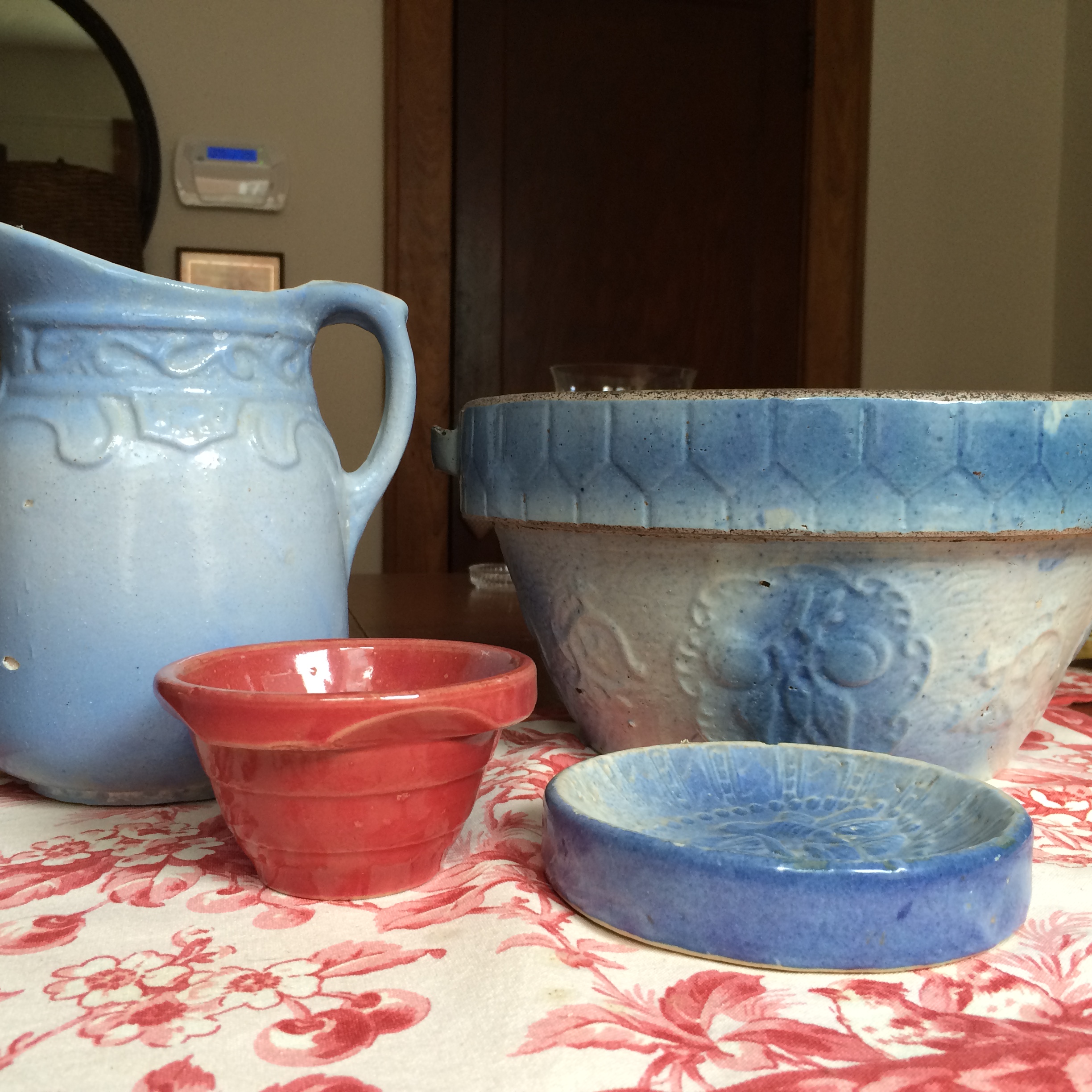 Let's see what else. I gave Beau a rawhide chew one day thinking it would keep him busy while I did some things around the house. He promptly took it to the door to go out. He ran out and buried in the the back yard. So much for that diversion. Later in the week, he dug it up and buried it somewhere else. Then last week he found a rawhide that some other dog must have left behind as he proudly brought me this one....Yuck.
My favorite band is Toad the Wet Sprocket, a band who had a bunch of hits in the '90s but have been pretty low key since them. They are playing a show in Charlotte in early August and I got tickets. My friend here in Winston and one of her friends were up for a road trip. I am excited. Here is a video of one of their recent songs. Love them. So excited....Coldplay in July and Toad in August.
I guess that's enough this and that for today. Have a great week! Back soon with a recipe!