I'm back with the last of the pictures of my vacation. It already seems so long ago. If you aren't interested in pictures of the beach and food, you might has well stop reading now as that's all I've got today. I've been busy and haven't cooked much, but finally got back to it this week. I have two recipes to share....a really green soup, and a great quick bread with two rather weird flours. Tune it again later to get those. For now, here is part two of the beach. Isn't that sunrise above amazing? I loved getting up each day and walking. I would go between 4 and 5 miles and usually encountered no more than 10 people! I did see a few sea creatures.....little crabs, a sting ray and a jelly fish!
My deal friend Caryn (we have known each other since 1990! How can that be?) came down for a few days with her two girls. Her son was away on a trip with his grandfather so we had just a girls trip. They brought so much fun to the house. We played on the beach, made nachos, worked a puzzle, read books and talked ALOT. I wish they could have stayed the whole week!
Mom and I drove to Wilmington one day on the way to meet up with her friend Marie who stayed with my mom the second week while I went back home to work. We went to the farmers market but it was so hot we didn't walk around much downtown. It is such a quaint old Southern town. We bought eggs, flowers, and tomatoes. We then went to lunch at Vivian Howard's new Italian restaurant, Benny's Big Time Pizzeria. You can read about it here. It was delicious. I had a roasted carrot salad with burrata and a pizza with taleggio cheese and hot (spicy) honey. I almost didn't like the pizza at first but it grew on me, and could not stop eating it. I ate the last few pieces, cold, in the car on the way home and didn't even care that I dripped honey all over my shirt! My mom had a salad with the best Italian dressing and a pickled egg salad open faced sandwich. I know the bathroom pictures are a little odd, but can you believe the amenities in the ladies room at Benny's? Floss, hair spray, bobbie pins, mouth wash? Hmm. Anyway, the food was so good. I hope it won't be too long before I can go again!
So food is obviously big for us, so here are some more photos at The Bistro restaurant in Topsail. I had low expectations but it was one of the best meals I have had in a long time. They source all their food from North Carolina except their beef which comes from Texas. We had a drink in the bar as we were early. Look at that amazing bourbon selection! We shared some hot sour dough bread with sweet potato butter and homemade jam. Then I had a grilled swordfish with a lemon risotto and sprouts. Mom had shrimp and grits with green tomatoes, and Maria had rabbit with peaches. We shared a chocolate cake for dessert and Maria had beignets with cinnamon sugar. It was all so good!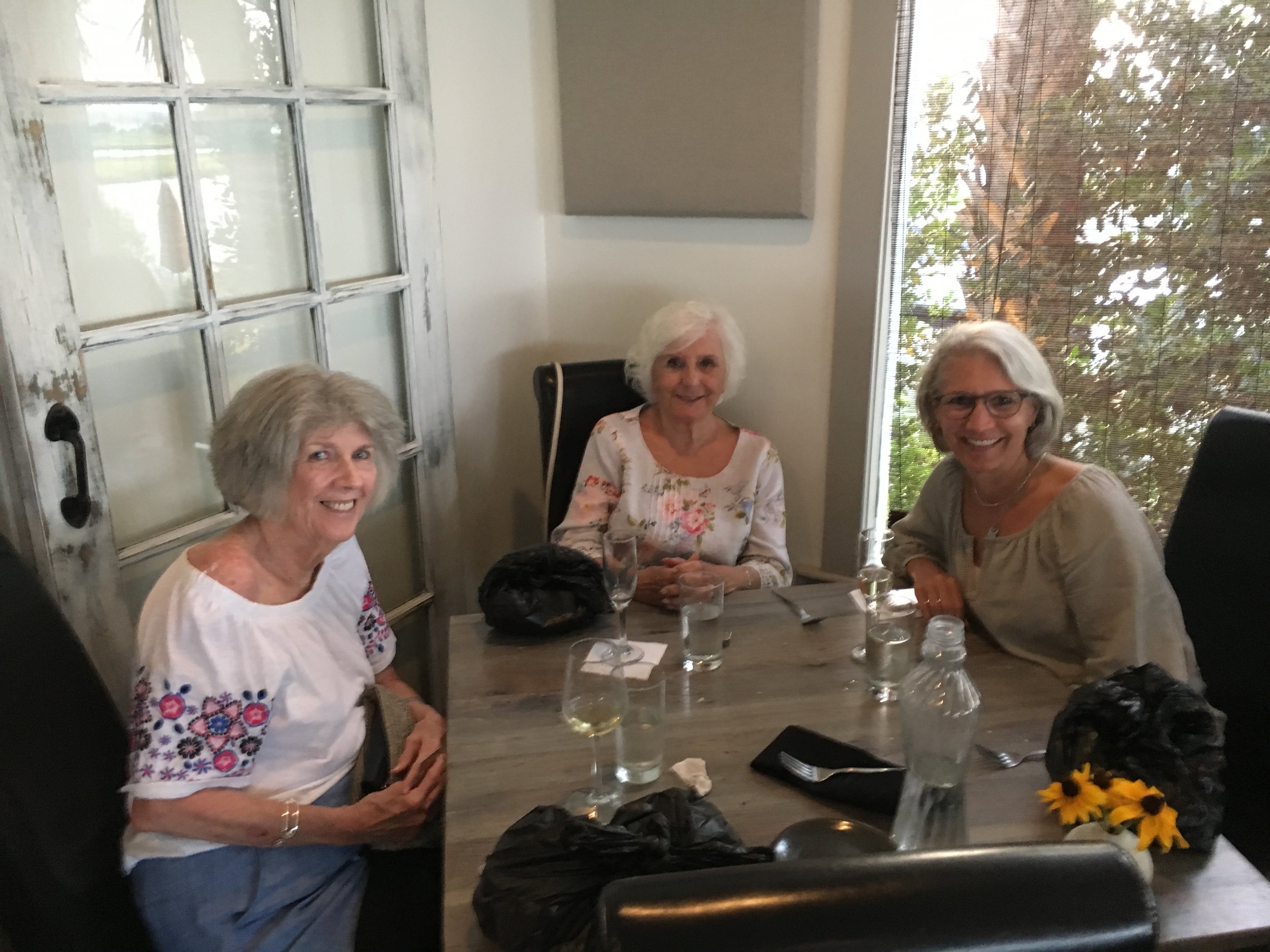 A few more pictures of the beach. Mom captured the full moon beautifully! Topsail Island is quite narrow so I walked over the get the sunset over the inlet side. It was amazing. Topsail is know for the sea turtles, but also for having a lot of shark's teeth. I found one, not even knowing what it was. Turns out to be a Great White Shark's tooth!
I so rarely post pictures of me. Somehow I always end up with food and landscapes. So here are a few of me and my mom. Hope you all enjoyed sharing my vacation! BRB with a recipe or two!